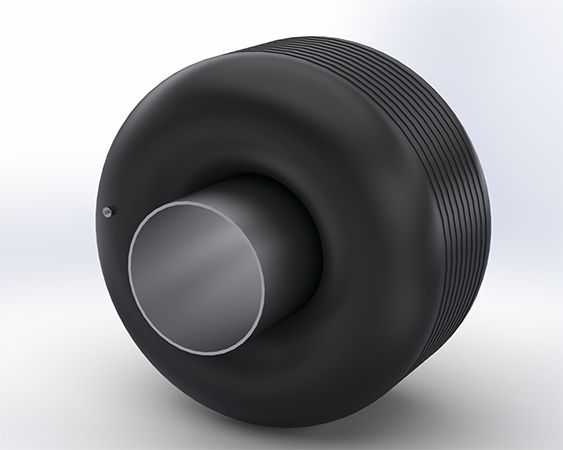 Pipe plugs are an important tool that is used to temporarily seal off sections of a pipe system. They are used in a wide range of industries, including oil and gas, plumbing, and construction. Pipe plugs that feature a large bypass connection, however, offer a number of advantages over other types of pipe plugs.
What is a Pipe Plug with a Huge Bypass Connection?
A pipe plug with a huge bypass connection is a type of flow-through pipe plug that is used in the plumbing industry to effectively block the flow of fluids or gases through a pipeline or a specific section of it. It is designed with an oversized bypass connection that allows fluid or gas to pass through while the main pipe is blocked, making it a versatile and effective tool for various applications in the plumbing, oil, gas, and chemical industries.
Huge Bypass Plug is made of hot-vulcanized synthetic rubbers like SBR + NR mixed rubber, nylon cord, Kevlar cord, and strong fabrics. It is a light and foldable model which makes it easy to install and suitable for confined access openings or manholes. In addition, this model is multi-size which means that a single model can be used for many pipe diameters.
Why to use a Pipe Plug with a Huge Bypass Connection?
One of the key advantages of a pipe plug with a huge bypass connection is its ability to maintain the integrity of the pipeline during maintenance, repairs, or testing. By using a pipe plug with a bypass connection, workers can easily isolate a section of the pipeline while still allowing the fluid or gas to flow through. This makes it easier to perform maintenance and repairs without disrupting the entire pipeline or affecting the surrounding areas. The Huge Bypass Plug is usually used to repair the manhole.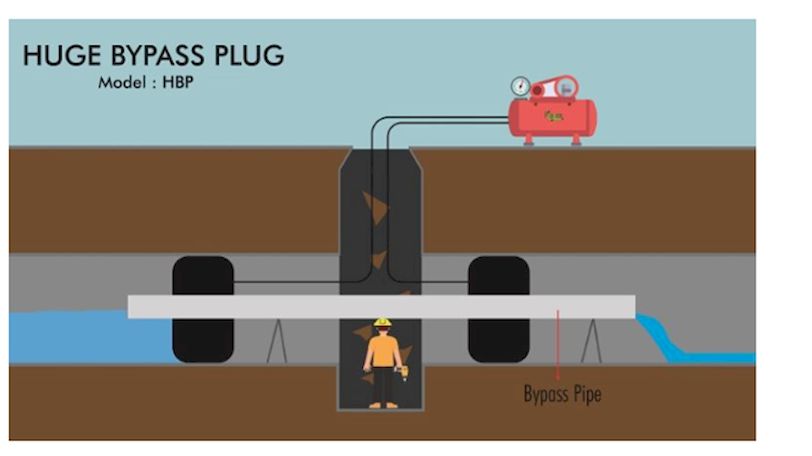 What are the available models of Huge Bypass Plug?
PlugCo manufactures Huge Bypass Plug, designated as HBP Model, with a multi-size feature allowing them to be used for a wide range. While the standard model sizes vary between 200mm and 3000mm with a bypass size between 120mm and 1350mm, PlugCo is always ready to work on special applications and produce a custom model as per the project specifications. The following table illustrates the main models of Huge Bypass Plug PlugCo produces. More details are available on Huge Bypass Plug product page.
| Model | Usage Range | Bypass Size |
| --- | --- | --- |
| HBP200400 | 200mm-400mm | 120mm |
| | 8″-16″ | 4,7″ |
| HBP400800 | 400mm-800mm | 260mm |
| | 16″-32″ | 10,2″ |
| HBP500800 | 500mm-800mm | 410mm |
| | 20″-32″ | 16,1″ |
| HBP5001200 | 500mm-1200mm | 410mm |
| | 20″-48″ | 16,1″ |
| HBP6001700 | 600mm-1700mm | 540mm |
| | 24″-68″ | 21,2″ |
| HBP11002600 | 1100mm-2600mm | 1010mm |
| | 44″-104″ | 39,7″ |
| HBP14003000 | 1400mm-3000mm | 1350mm |
| | 56″-120″ | 53,1″ |
Tips for a long life cycle Pipe Plug
A Huge Bypass Plug is, like other pipe plug models, reusable in case it is used in the correct way. With a life cycle of over 10 years, the Huge Bypass Plug can be used more than 100 times if all the instructions specified by PlugCo in the User & Safety Manuals are followed and applied in a proper way. In addition to the correct usage of the pipe plugs, the storage conditions can be a game changer in the life cycle of the used plug. For more details about the installation instructions for Pipe Plugs and Storage conditions, you can read PlugCo User Manual and Safety Instructions.