PlugCo is expanding day by day its presence in the Market of Pipeline Testing Equipment. In this context, PlugCo has managed to take place in Cleaner Magazine, the largest publisher of print, web and trade shows serving the water and wastewater industries.
The published article in Cleaner Website evokes some testimonials of PlugCo Clients in the Middle East and USA. They expressed their satisfaction with the quality of PlugCo Pipe Plugs and Packers as well as the proactivity and prompt responses of PlugCo team to their inquiries. Like every customer, Ultra Packer and MEM focuse on getting high quality products which require customs production in some cases and this was the main reason why they think PlugCo is the most suitable supplier to deliver them the necessary products on time and with the needed specifications.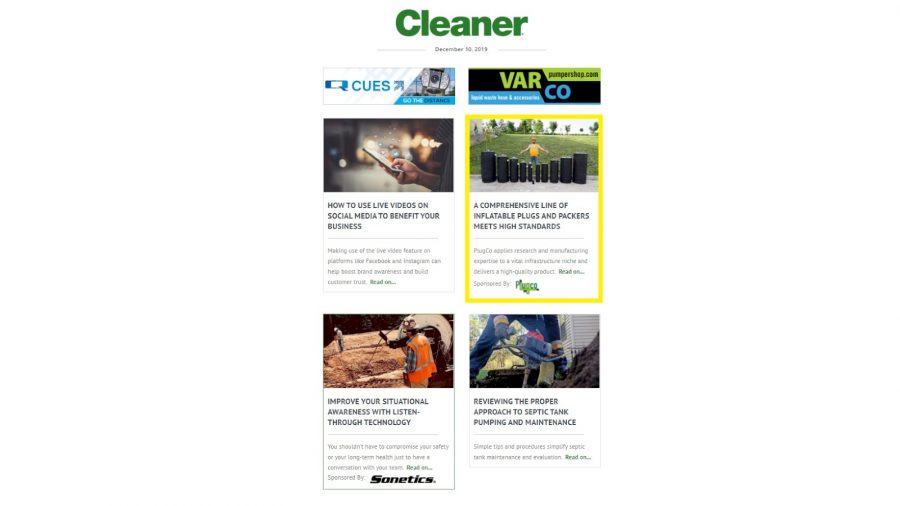 Producing customized products, providing customer support and ensuring the on-time & fast delivery are just some among other factors that make PlugCo a reliable and trustworthy supplier all over the world. Hence, PlugCo has succeeded to export its products to more than 50 countries on the 6 continents so far.
PlugCo works hard to satisfy all of its client by producing the highest quality of Pipe Plugs and Packers as well as providing their best support either by emails and calls or by visiting the projects sites.