PlugCo will attend The WWETT Show 2017. At this exhibit, PlugCo will be exhibiting its products. PlugCo is the biggest manufacturer of inflatable pipe plugs, packers, pipe balloons, pipe stoppers, pneumatic plugs, rubber plugs, drain and sewer pipeline testing equipment in Turkey.
PlugCo produce plugs up to 144"(DN3600) size and up to 6 Bar back pressure. All of PlugCo products suitable to test according to European Standard EN 1610. PlugCo has an efficient shipping department committed to delivering those products to your project site or warehouse as soon as possible to meet needs of industries such as energy, power generation, water, sewer and construction. Click to see our catalog.
The WWETT Show – Water & Wastewater Equipment, Treatment & Transport – is the world's largest annual trade show for environmental service professionals. Each year, over 10,000 attendees gather from all parts of the world to see the latest in equipment and technology in the expo hall, participate in over 100 education sessions, and network with professional colleagues. WWETT has been voted one of the Gold 100 trade shows as reported by Trade Show Executive Magazine.
The WWETT Show Details
Event Name: Water & Wastewater Equipment, Treatment & Transport Show
Exhibit Dates: 22-27 FEB 2017
Location: Indiana Convention Center – 100 South Capitol Ave, Indianapolis, IN 46225, United States
Booth No: 6322
PlugCo Booth at The WWETT Show
PlugCo Booth can be seen from the following page as interactive:
http://fp.wwettshow.com/show/WET171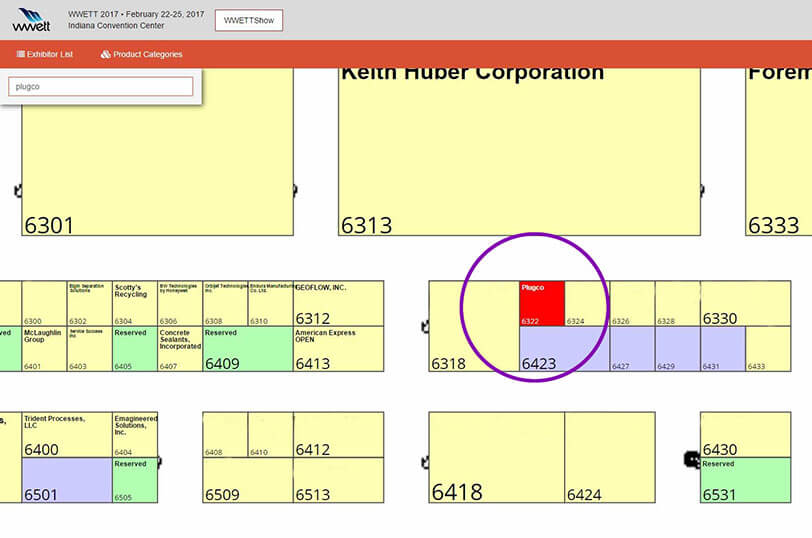 Plugco Products Range
PP: Pipe Plug
PTP: Pipe Test Plug
PPTP: Professional Pipe Test Plug
LPTP: Low Pressure Test Plug
CTP: Conical Pipe Test Plug
ESP/ESTP: Egg Shaped Test Plug
JTP: Joint Test Plug
SSTP: Single Size Test Plug
FPTP: Flexible Packers
GTP: Gas Plug
MTP: Manhole Test Plug
PPS: Pipe Plug Protective Sleeve