By 2019, PlugCo has become one of the most well-known companies in Colombia.
This good reputation started the day we received an enquiry from a Colombian Spanish speaker customer, who wondered about our high-quality products. The experienced PlugCo engineers contacted him, trying to understand his application and provide him with the suitable products and the correct quantity they need. Our engineers answered all customer's questions quickly and precisely, so that the details were clearly understood by the end-users.
High Quality Products and Professional Service
Following the enquiry, we received, our customer wanted plugs to ensure air and water leaking test for sanitary pipelines between 6" and 36" (150mm to 900mm). Our engineers have proposed Three models of Pipe Plugs: PP100200 for pipelines from 4″ to 8″, PP200500 for pipelines from 8″ to 20″ and PP5001000 for pipelines from 20″ to 40″.
The customer also needed test plugs with bypass, as the leakage test was carried out with air and water. We therefore offered three models of Pipe Test Plugs with Bypass: PTP100200, PTP200500 and PTP5001000 as well as the accessories that are used to mount and ensure a well applied test. So, the accessories that we offered are the following: The Air Discharge Adaptor, ADA, with a female threaded Storz coupling, which is applicable for water testing and used to discharge the air from the test area. The Air Test Adapter, ATA, which has two ports; one port for the air supply of the test area and the other for monitoring the test pressure.
To clarify the steps required to use the products, PlugCo engineers have sent sketches as below and some informative videos such as : PlugCo | Pipeline Air Leak Test as Per EN1610 and PlugCo | Pipe Plug Application for Leak Test and PlugCo | How To Use the Inflatable Pipe Plugs.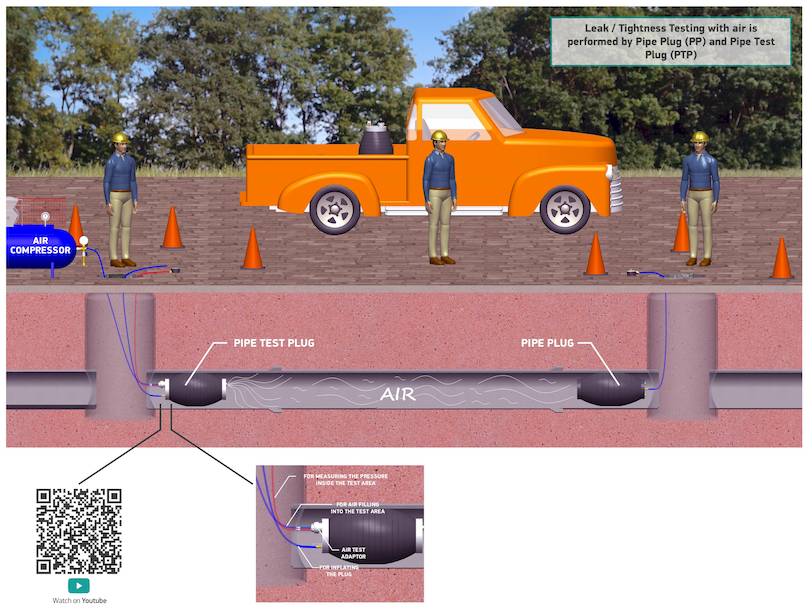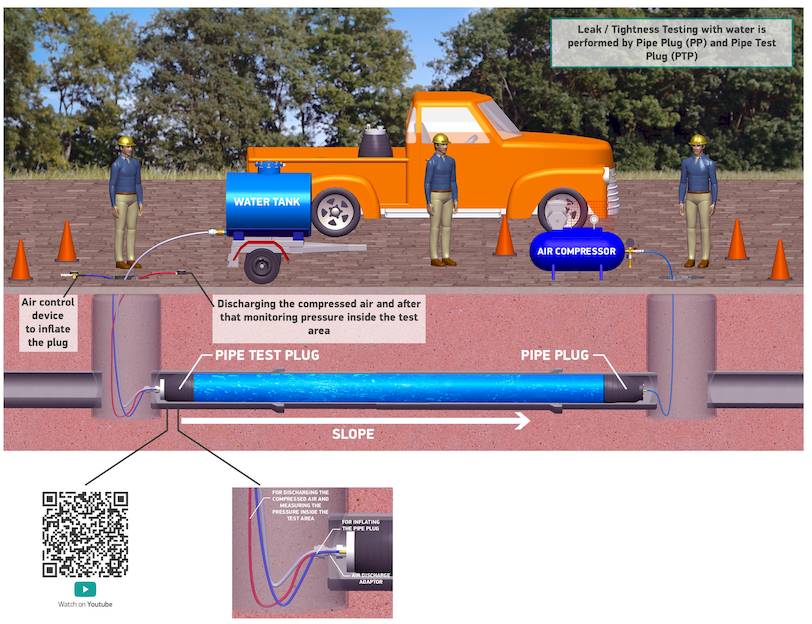 After Sales Services
After a while the customer decided to buy all the mentioned products. He sent us the Purchase Order so that we could prepare our Performa Invoice. Once the payment was received, we sent the goods by Airfreight to Bogota airport on time, without any delay.
Our engineers didn't stop there, they followed our customer step by step during his application. They were ready to provide training if necessary. The customer was very satisfied with the performance of the product. And also, by the technical and professional service given by the PlugCo team.
Following this Colombian enquiry, we have received several enquiries from our clients, but this time we haven't received enquiries only from the same client, but we got also inquiries from other Colombian companies, who have reached us via recommendations, for all the other sizes and Models of Pipe Plugs we have.
PlugCo at your service
PlugCo wholesales plugs all over the world thanks to its dedicated and reliable shipping service. This means that our customers receive their products at their doorstep.
PlugCo wholesales plugs for its customers without defining a minimum order quantity. We always support our customers and help them get the products and the correct quantity they need. This makes us the leading supplier of pipe plugs for many retailers and end users.
We look forward to welcoming you to our family. Call us or contact us via our website.